Tattoo by definition is the means of adding long lasting pigment or ink into the dermis layer of the skin. This sort of technique is not limited to artistic pictures and text we ink on our skin, but can also be used to enhance our appearance by means of cosmetic tattooing. We're here to talk specifically about hair tattoos.
Hair tattoos are one of those procedures that more and more men are trying out to create the appearance of new hair growth. This is especially common for men with either receding hairlines, bald patches or those who just want to tidy up their hair line.
Read ahead to get all the details you need to decide if this option may be right for you, plus some advice and tips straight from a hair tattooist. 
The evolution of cosmetic tattooing
To say this type of procedure is exclusive to the modern world would have Cleopatra turning in her grave. It first started as normal skin tattooing, which archaeologists have found examples of on mummified bodies dating back to 3300 B.C. 
Permanent makeup dates back to at least 2000 B.C during the Egyptian times. This culture was obsessed with beauty and invented many procedures we still use today.
In the early 1900's a type of permanent make-up procedure was re-discovered when tattoo artist Sutherland MacDonald starting using 'permanent makeup' at his parlour to give a rosy pigment to women's cheeks.
In today's world you can find procedures such as eyebrow micro-blading, eyeliner/lipliner tattoos, fake freckles and even mastectomy nipple tattoos. The hair tattoo's was born at the beginning of the 21st century and is now revolutionising the way men deal with male pattern baldness.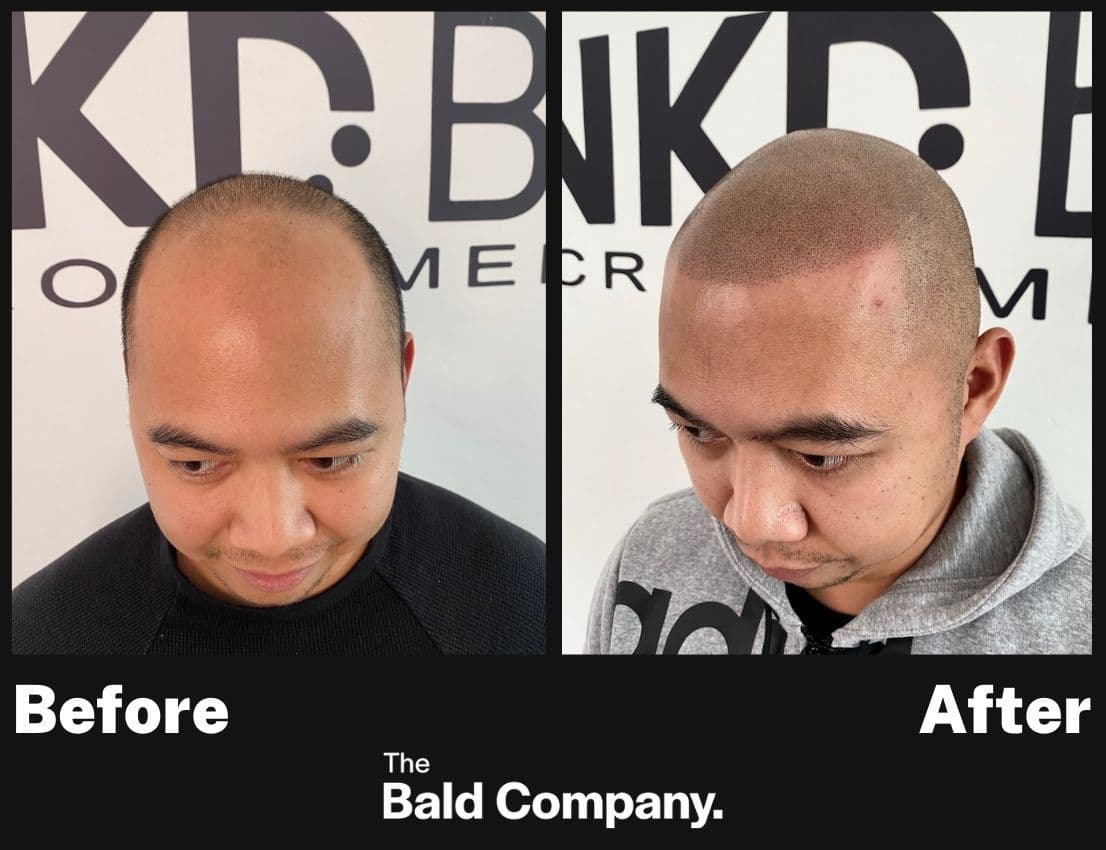 What is scalp micro-pigmentation?
Scalp micro-pigmentation is a process which involves implementing pigment into the top layers of skin using a light dotting needle technique. This process is done on the scalp with a pattern that mimics the look of your natural hair follicles.
The history of scalp micro-pigmentation (SMP)
Dr. Alvaro C. Tranquina of the Hair Transplant Clinic of Sacramento developed a 'dermal micro-pigmentation' technique in the 1990's. For 7 years they conducted trials of 62 patients to cover scarring from hair transplant surgeries. The patients were extremely pleased with the results and these were published in a medical journal for the American Society for Dermatologic Surgery.
This research was a strong influence on the way SMP moved forward into the 21st century. In 2002, the world's first SMP clinic was created and the industry is now popular worldwide.
Is micro-pigmentation the same as a tattoo?
Let's tackle this topic first so we don't get you all types of confused. Whilst the procedure of scalp micro-pigmentation is often called 'hair tattooing', the process is not the same as a regular tattoo.
Hair tattoo artist and owner of INKD by AJ, Anastasia James explains how the technique differs from that of traditional tattooing.
"There are no lines or shading in this process and the ink is only deposited as deep as the papillary layer of skin, just below the epidermis. The machine, ink and micro needles used are specialised for SMP so the results are ultra realistic and undetectable," she explains.
Ink will only inject two layers into the skin verse the five layers deep needles go during regular tattooing. This means it won't last as long but it does disperse the ink differently in the skin, giving it a more natural look. 
"The ink we use is black or black/brown mix diluted to match your hair follicles at the root and blend in with any existing hairs," the Melbourne based hair tattooist explains.
"Each clients treatment is 100% customised we're able to work with most skin tones and hair colours even blonde & ginger."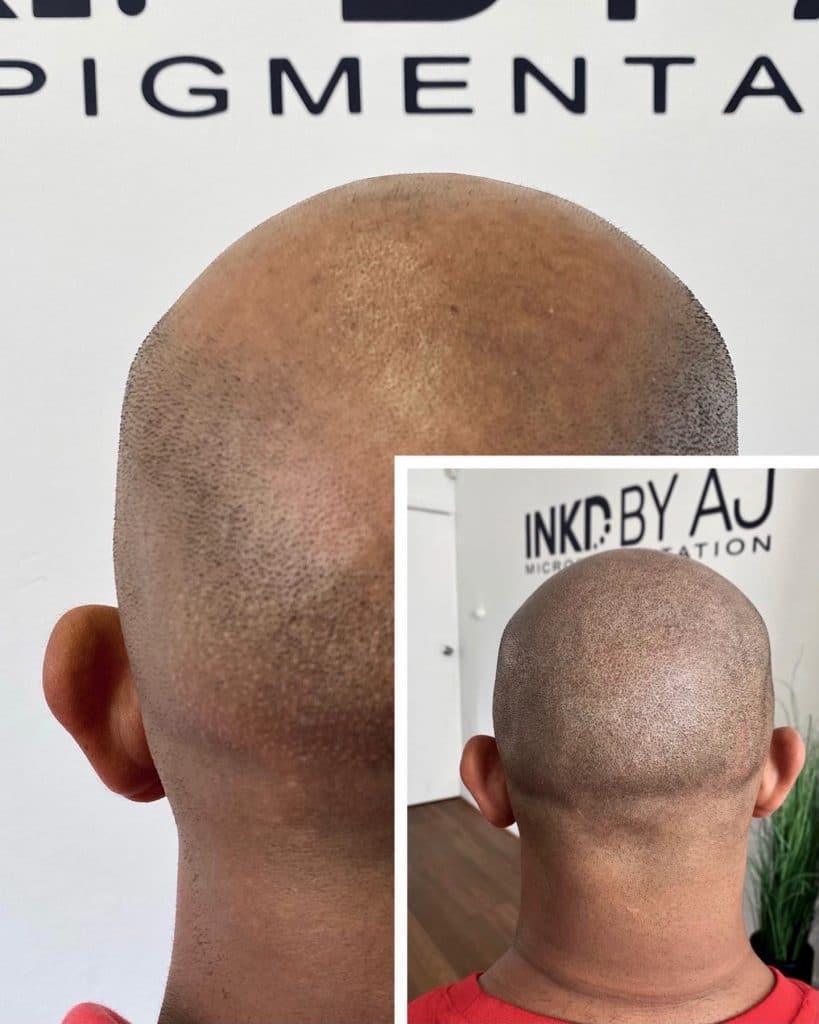 What is the full process involved?
A certified hair tattooist will use tiny needles to inject pigment into the skin, which is considered a form of light tattooing. The process is repeated over a long period of time to achieve the end result. The small markings then cover a large area of the scalp and appear to look like short hairs or hair follicles. 
Hair tattoo artist and owner of INKD by AJ explains the process of SMP
Ana took the time to run us through the full process involved with SMP.
"Before beginning treatment we'll do an assessment of the clients hair loss, skin type and expectations to determine suitability.
During the treatment, your hair follicles are replicated using a detailed "dotting"  cosmetic tattoo method, where ink is gradually deposited into the skin in multiple sessions or "layers".
For a new hairline on bald heads, on the first session we design your hairline and create the "shadow" base of the treatment, blending into your natural hair and crown/temples as needed. Hairline is customised to suit each client and the style they prefer, but always aiming for the most natural undetectable result.
Session 2 is adding density, darkness and blending the treatment.
Third session etc is any further blending and perfecting we need to ensure a flawless look."
How many sessions are required to see results?
"Depending on the extent of their hair loss, clients will need 2-4 sessions to complete treatment. Results can be seen from the very first session, especially when someone is completely bald – it looks like new stubbles have just grown!
Each session is around 2-4 hours, spaced 7 days apart between the first two and 2 weeks between sessions 2&3.
For density clients with long hair sessions are spaced 2 weeks apart."
How long do hair tattoos last?
The tattooed effect will last between 3-5 years before a touch up will be required to darken to pigment again.
People with dry skin may notice fading more quickly due to skin shedding. To prolong the colour, make sure to keep the scalp moisturised and apply SPF to avoid sun damage. 
"During the touchup we go over the original tattooed dots and this is usually only 1 session," says our expert.
Who should get hair tattoos?
Men or women who are noticing early signs of balding may opt for SMP to create the appearance of a fuller head of hair.
"By adding the tattooed follicles to your scalp it reduces the contrast between your visible skin and hair, which gives you the appearance of a fuller head of hair. We can recreate your hairline for a shaved head look, or add density to thinning hair," our expert says.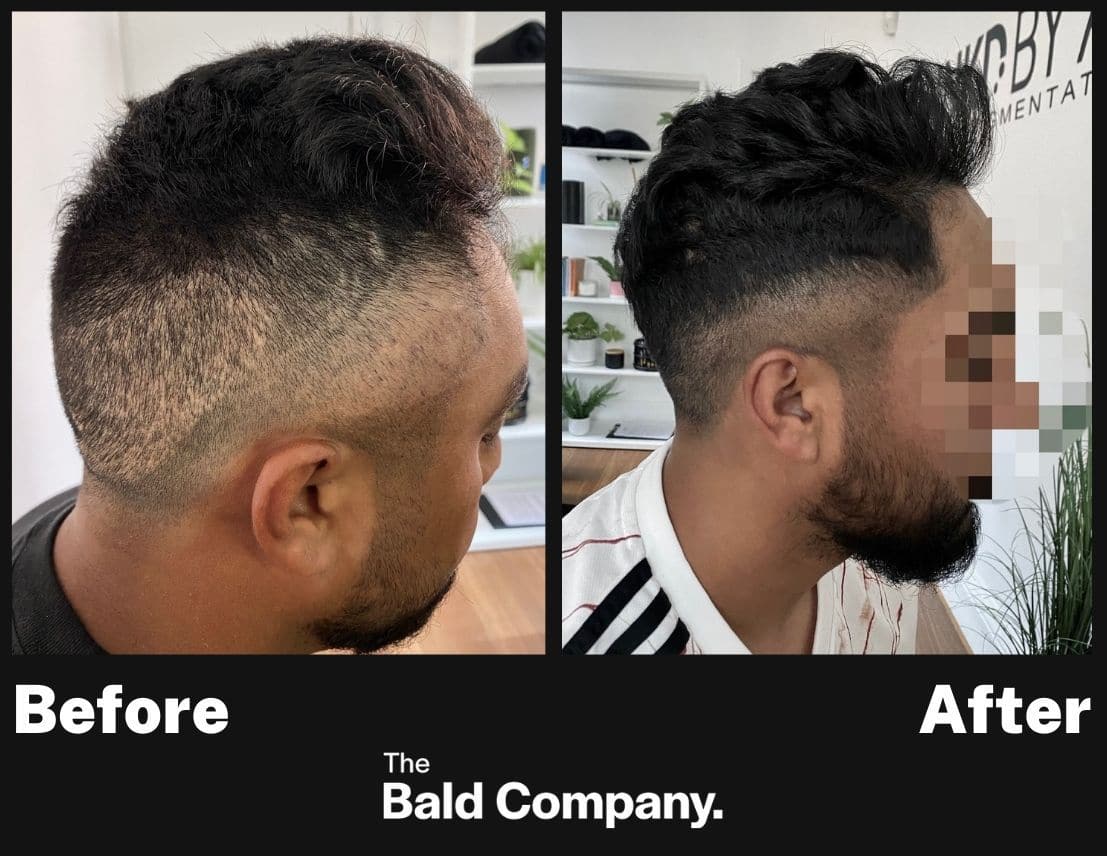 It can also be a great way to recover a receding hairline or create a new one. Many people use SMP to tidy up their hairline to better frame their face. For men or women who keep a close shaved head, the effects are extremely realistic.
Others who have lost their hair altogether may use SMP to give the appearance of some growth if they don't want to go completely bare up there.
Many people with scars also use SMP on the area of scar tissue that won't grow new hairs, particularly those with scars from hair transplant surgeries.
Do hair tattoos look real?
Regular, heavy ink tattoos of hair on one's scalp? Absolutely not. Please do not go to your regular tattoo artist and request this. This photo should be enough warning.
But the process of scalp micro-pigmentation – also known as hair tattooing – has a very natural looking effect. The procedure needs to be done by professional cosmetic tattooists who use a completely different technique.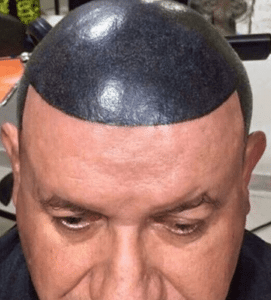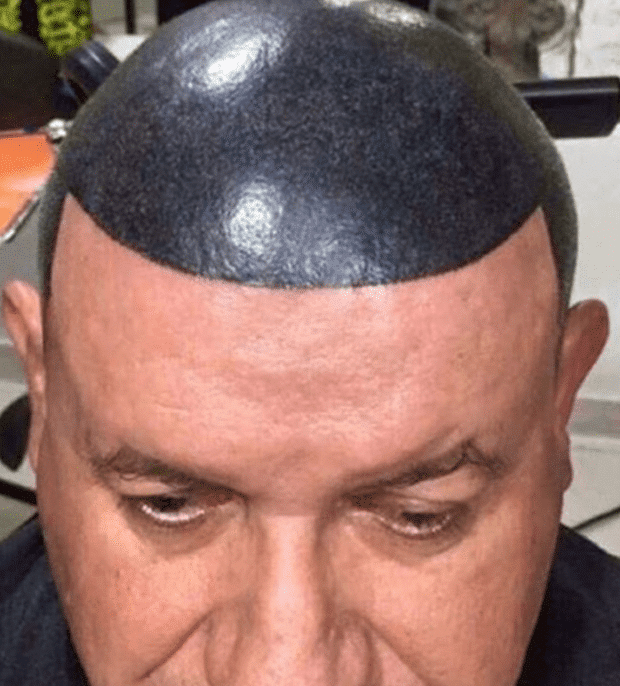 Does scalp micro-pigmentation look natural?
Yes, when done by a SMP professional and following the natural hairline, scalp micro-pigmentation will look very natural. If you're unsure of where you think your hairline will look most natural, remember to never bring it too far forward to begin with. Start further back because you can always add to it later.
Finding a good SMP professional who knows what they're doing is also essential. Check for their SMP certification and previous experience in the field or other cosmetic tattooing practice. Make sure to book an appointment and discuss your options. Don't be afraid to ask for photos of previous clients with similar hair and expected results.
It is also important to ensure the environment is clean and sterile.
How much is a hair tattoo?
Pricing will depend on each person and how much work they will need done as well as where you live. For example, searching online for prices in the US gives a rough price of US$1,500 – $3,000. Full head coverage could cost as much as $4,000.
Ana gives a rough estimate of her current clients costs in Australia. "Prices are based off the treatment type (bald with hairline recreation / or density on long hair) and the extent of your hair loss, so it varies for each individual. Every provider has their own pricing levels, but on average most of my clients fall within the $1200-$2500 range."
Do hair tattoos hurt?
Ana explains that the pain is described as a 2-5/10 on average, but everyone's pain tolerance is different. "The front hairline and temples are the most sensitive areas."
Numbing cream can be used but she says that nine out of ten clients will go without.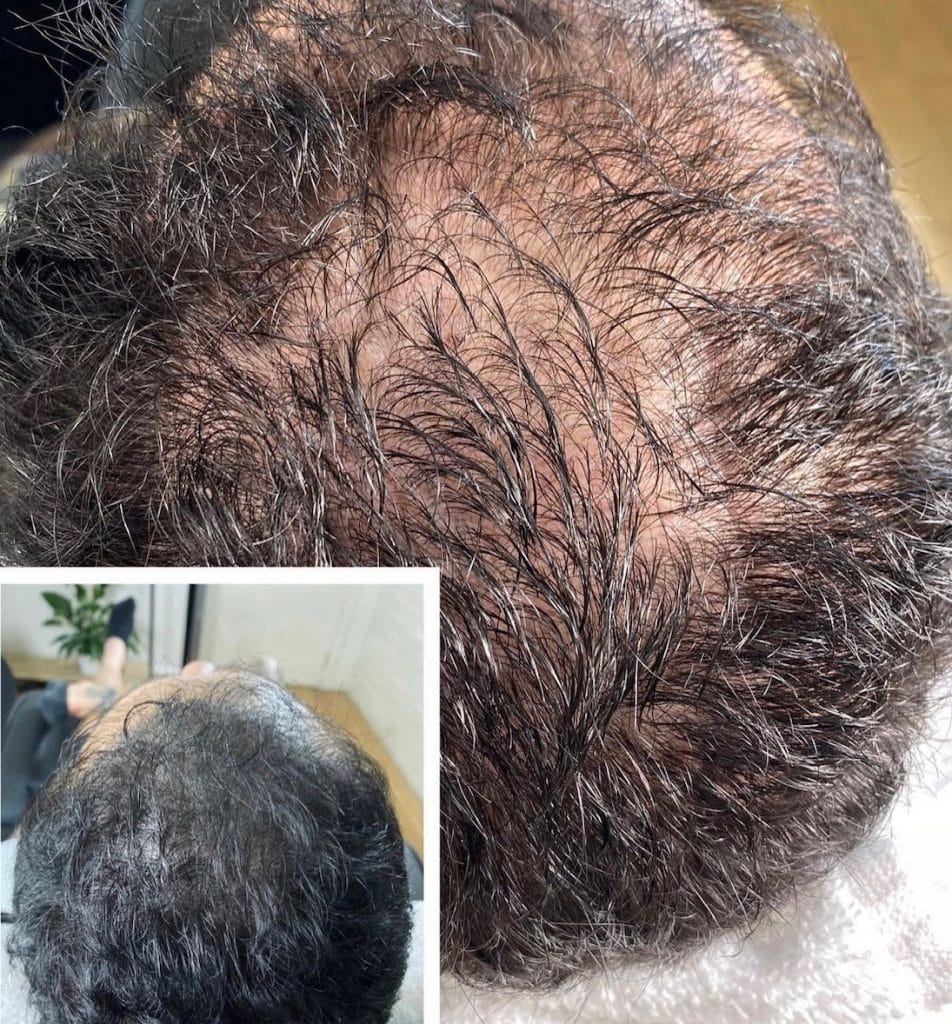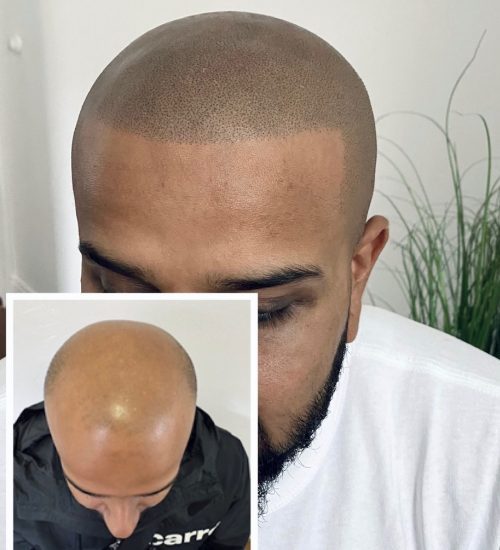 Is hair tattoo halal?
This will depend on your interpretation. Under Islam, tattooing is haram (forbidden) but medical treatments to restore hair is halal (permissable). Micro-pigmentation falls somewhere in the middle as it is not a permanent tattoo and does look to restore old hair follicles, but it still does use ink in the process and isn't designed to encourage new growth. During our research, we found articles both for and against hair tattoos being halal. Unfortunately it does not seem like an easy question to answer and may depend on the individual persons beliefs.
Will I regret micro-pigmentation?
Most people see great results with their hair tattooing experience but there have been rare negative experiences.
Because the procedure is happening under potentially sensitive skin, keep in mind things like allergic reactions, inflamed skin and discolouration may occur.
Ana doesn't recommend the procedure for anyone using blood thinning medications.
"Skin conditions such as psoriasis and eczema must be cleared up prior to treatment. A persons skin condition and general health will play a big factor in their suitability."
Conclusion
You've clearly read this far for a reason so chances are you are losing your hair and wondering what avenue to go down now. Or maybe it's been lost for a while and you're looking for a fresh new idea as you've gone down the 'miracle cure' line with no success.
Results can be life changing for some people with Ana describing some things she has noticed from her clients.
"Guys are always touching their heads like the hair is real! I've had some tears, wives messaging me to thank me, and loads of big hugs. People are always shocked at how natural the results really look."
"Being able to make a difference in someone's life through my art is an amazing feeling.  Losing their hair is devastating for some guys and really affects their self confidence. I get to know all my clients over the weeks and love seeing their transformations both inside and out."
"When a guy who was wearing a hat daily for 10 years walks out of my studio hatless and confident – that's what it's all about for me."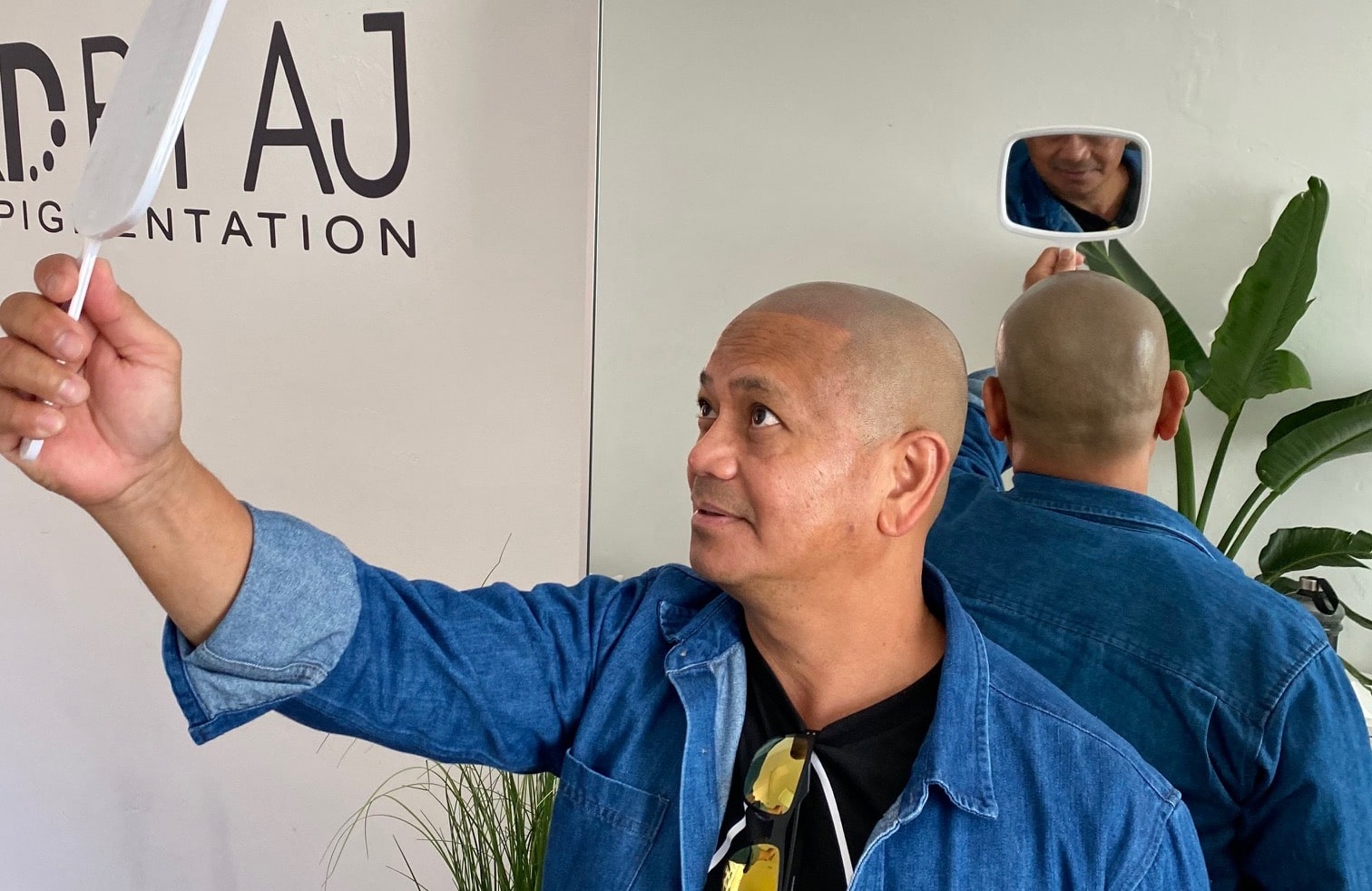 Everyone's results may vary but if you're considering opting down the hair tattoo route, it can't hurt (or it could… pun intended) to do some research and see if this could be the solution you're looking for. Either way, we're sure you will rock your baldness no matter what way you go about it.
Thanks to Ana for sharing her expert opinion. You can find more detailed information about her services on her website.