Description
What is Losing To Win?
It is NOT just another "how to" book on positive thinking and accepting who you are.
It is NOT just about shaving your head and becoming bulletproof bald – yet this book will show how to become that and exponentially MORE.
It is NOT about unlocking a whole new mindset and confidence – yet the things you will
learn in this book can help you increase your confidence MORE than you could ever imagine.
Losing To Win™ is A GAME CHANGER
When you realise that you're losing your hair it can be a very scary place and often can lead to all sorts of irrational fears and negative behaviours that effect you in key areas of life (that's the bad news). But once you actually take a step back and understand what's actually happening, you will realise your fears can be easily fixed (that's the good news). Inside you will find the actual playbook we created after working with hundreds of guys struggling with overcoming their fear of hair loss. We will help you understand that what you're feeling is normal and give you real strategies to help you overcome what at the time can feel like a big problem.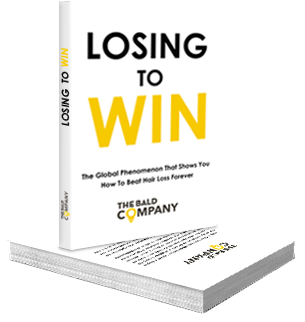 Here Are A Few Of The Secrets That You'll Be Given…
We'll show how to turn your hair loss into your greatest source of confidence.
We'll show you your hair doesn't make you attractive and what actually works.
We'll show why the "Hair Loss treatment" industry is doing everything they can to beat you downand how to avoid their deceitful traps.
We'll show how toget control of your fears and irrational thoughts about hair loss.
We'll show you what negative habits and danger zones you need to avoid when you're experiencing hair loss.
We'll show how to dress as bald man and make it work for you.
We'll show you what habits and behaviours you need to adopt if you want to exude bulletproof confidence.
We'll show you how to destroy the competition(dudes with hair) and how to deal with negative people.
We'll tell you the number #1 thing that every male hair loss sufferer wishes he did when he first realised he was going bald.
Check Out What Others Are Already Saying About The Losing To Win Book!
Ben Carboni
"I'd been struggling with hair loss for years when I read this it spoke really openly and honestly to everything I was feeling at the time. This book is a must read."
Troy Lawson
"I have spent more money and time than I care to admit over the past few years in my attempt to deal with my hair loss. Losing to Win has changed the game for me, it really puts things into perspective and is very well written."
Terry Paterson
"I have spent more money and time than I care to admit over the past few years in my attempt to deal with my hair loss. Losing to Win has changed the game for me, it really puts things into perspective and is very well written."
Angela Stephens
"I bought this book for my husband who has been in denial the last few years and secretly struggling with going bald. This book was the perfect dose of confidence he needed to help him own it! Nothing I said was working but after reading this he is so much happier in himself and I find it super attractive!! ."
And That's JUST the First 50 Pages
You'll Also Get Style Tips & Dating Advice … And SO MUCH MORE