You may have heard the name Kelly Slater for a few reasons. The first and foremost reason being that he's probably the best surfer the world has ever seen and definitely the most recognised. You may also know him as the guy that dated hottie Pamela Anderson.
Excelling in the sport of surfing around the time televised surfing competitions were gaining popularity quickly turned Slater into a household name and an icon in not just the surfing world, but across sport in general.
But it wasn't just world surf titles he ranked for. Kelly Slater's name can be seen in a variety of lists from 'the sexiest people in the world' to 'the best sports stars of all time' and even our Top Ten Bald Sports Stars.
So here's a little more about the bald superstar himself.
How old is Kelly Slater?
Born Robert Kelly Slater, he came into the world on the 11th of February 1972. This makes him 49 years old. He is the son of Judy Moriarity and Stephen Slater and has two brothers, Sean and Stephen.
Where is Kelly Slater from?
The American pro-surfer was raised in Cocoa Beach, Florida, where he still lives today. He also has houses in Hawaii and California, making sure he's always close to the ocean.
According to an 1986 article about the 14 year old rising star, he was also doing really well in school and planned to finish high school before going pro.
He said his older brother Sean was his biggest supporter and would go out surfing with him the most.
At 14, Kelly was beating pro surfers more than twice his age. "He's so knowledgeable of waves. It's not inconceivable to picture him as a world champion someday," a veteran surfing judge Roland Major predicted.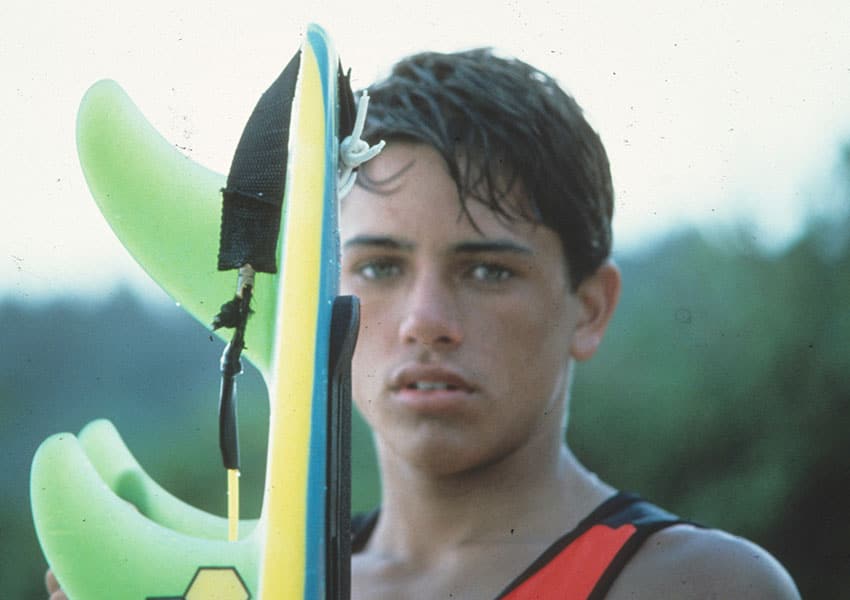 When did Kelly Slater start surfing?
His dad owned a bait-store in Florida so growing up, Kelly was always by the water. He recalls surfing when he was as young as 3 with his brothers and dad.
By age 10 he was a natural and already winning competitions. He took out his first United States age-division championship title when he was only 12 years old.
At 14 he took the world stage, finishing third in the junior division at the world amateur championships in the UK. He then took out the title of junior champion at the Pacific Cup in Australia the following year.
Surfing career:
Despite his knack for the sport and starting at such a young age, Slater wasn't an instant surf champion after high school. In 1990 when he was only 18, he went on the professional tour and finished 90th in the world rankings. He persisted another year and got to 43rd.
Finally in 1992 he gained some traction, finishing top three in 3/5 of his first events and then winning his first professional tour event, the Rip Curl Pro in France. His first world title followed that year when he won the prestigious Pipeline Masters in Hawaii, cementing himself in the history books as the youngest surfing world champion ever.
In 1993 he dipped to sixth in the rankings but returned in 1994 to win the world tour and consistently won world titles until 1998. In 1997, after winning his fifth world title he became the world's most successful surfing champ, and has since won 6 more.
Slater took a career break after that but returned in 2002.
Now, Slater holds almost every record in the sport.
How many championships has Kelly Slater won?
Slater has won an incredible 11 World Titles throughout his career and 55 Championship Titles.
He is both the youngest and oldest world champion in ASP World Tour history, winning his first world title in 1992 (age 20) and his most recent in 2011 (age 39).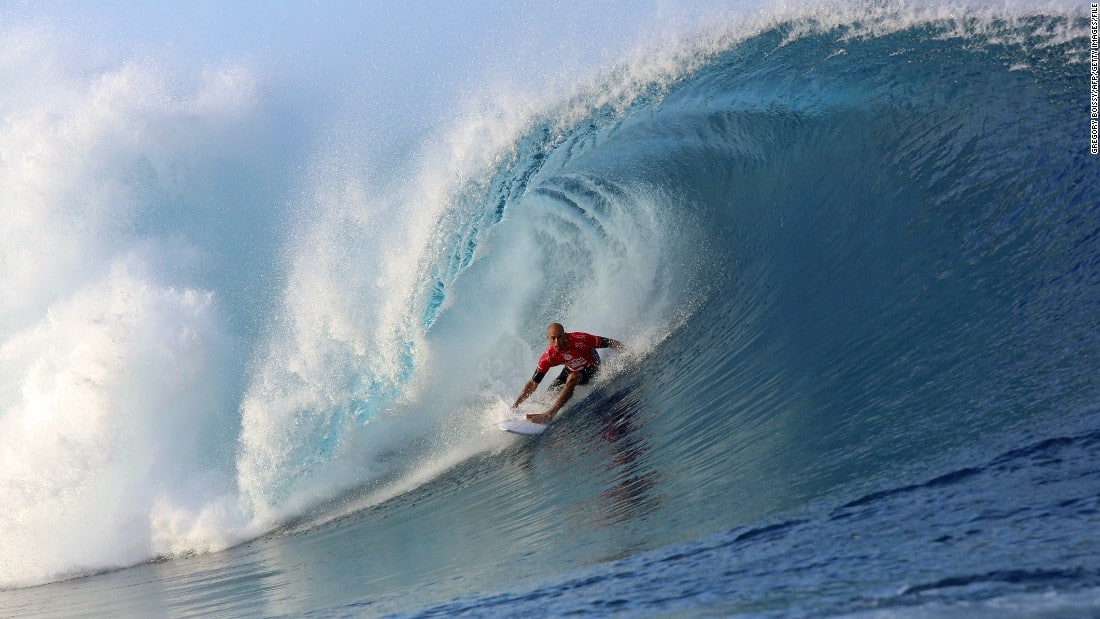 Kelly Slater surfing statistics:
We found some interesting and super impressive stats thanks to Surfagram & WSL that we ought to share:
he has a 74% victory rate
Slater has won 820/1114 heats surfed
he's also won 55/257 CT events surfed
average heat score of 10.83
he also had a 69% finals win rate
Pipeline stats:
His Pipeline achievements especially far exceed even the next best surfer who follows him. Future surfing pro's will certainly find these tough to beat.
Career appearances:
Kelly Slater – 26
Joel Parkinson – 16
Pipe Masters Wins:

Kelly Slater – 7
The late Andy Irons – 4
Finals appearances:
Kelly Slater – 12
Joel Parkinson/Andy Irons – 4
Heats surfed:
Kelly Slater – 122
Joel Parkinson – 53
Heat wins:
Kelly Slater – 85
Joel Parkinson – 28
Excellent scoring heats:
Kelly Slater – 33
John John Florence – 16
Is Kelly Slater still surfing?
Yes he sure is, having signed up for multiple Men's Qualifying Series and Championship Tours in 2021 according to The World Surf League.
His ranking has slipped to 31 this year though, after some injuries caused him to pull out of the Australian leg of the WSL.
His last Championship Title victory was in 2016 and last World Title in 2011.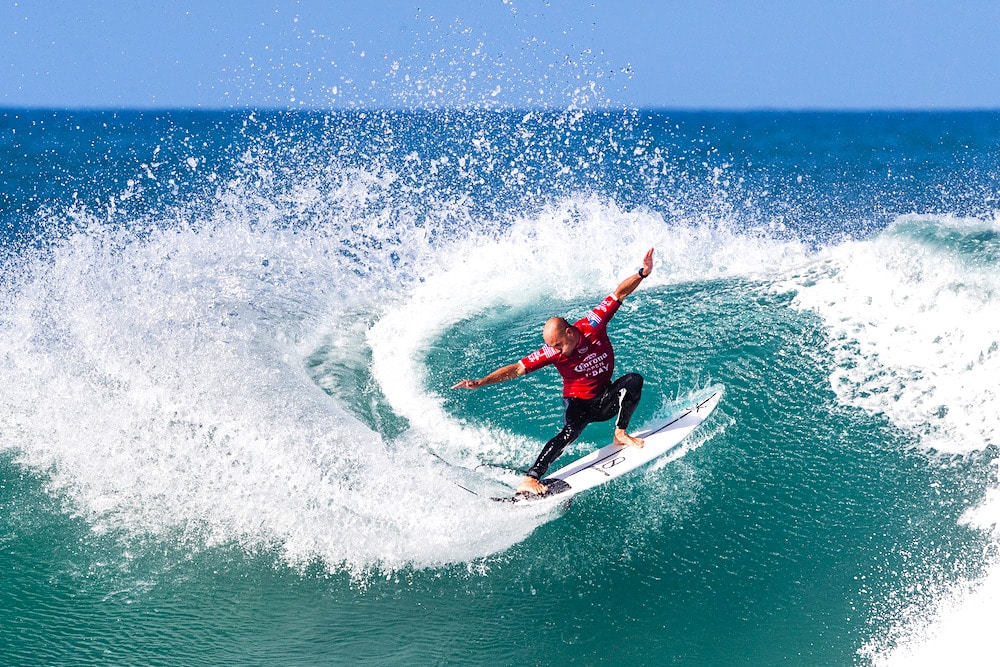 How much is Kelly Slater worth?
His estimated net worth as of 2021 is $25 million US dollars. Largely thanks to his surfing championships, sponsorships, books, acting, modelling and his business venture.
Personal life & other successes
Not only a sports star, he can add author, entrepreneur, actor and model to his repertoire. Being labelled one of the sexiest men in sport opened a lot of doors for Kelly and he was quickly picked up for modelling and acting jobs.
His first acting role was in Baywatch between 1992 to 1993 when he stared in 23 episodes alongside David Hasselhoff and Pamela Anderson.
Kelly Slater's acting career
Kelly said he felt pressured by his former manager and mom who both really wanted him to take the offer and pursue an acting career on the famous show. He told American sports reporter Graham Bensinger that he more or less was signed up to it without his approval. "I was very reluctant to do it," Slater said.
"I was so embarrassed that I was going to have to do the show and I just really didn't want to. I wanted to go surfing and win contests and be a professional surfer and that was it. I wasn't trying to go be an actor."
Since then he's had 17 acting credits according to IMDb, but most of these include video games and appearances in documentaries as himself.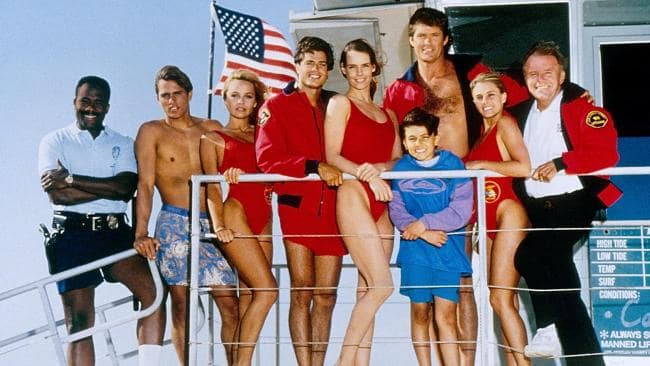 Who has Kelly Slater dated?
One thing that I am sure he isn't disappointed about that came from his stint on Baywatch was dating his sexy co-star. Pamela, we mean. The pair dated for two years between 1998 and 2000.
This started a stint with dating some high profile babes such as Gisele Bunchen (2005-2006) & Cameron Diaz (2007).
Who is Kelly Slaters wife?
Currently, he is rumoured to be engaged to long time girlfriend Kalani Miller whom he has been dating for over 7 years.
Does Kelly Slater have kids?
Slater does have a daughter, Taylor, who was born in 1996 with an ex-girlfriend named Tamara.
Does his daughter surf too?
Unfortunately not at a professional level like her father, but she mostly stays out of the limelight so who knows if she is keeping her skills hidden under wraps.
Taylor may not be surfing waves, but she sure is making some of her own in the art world. The artist makes beautiful pieces from resin and paint on wood as well as showcasing incredible photography & short films.
One thing she did get from her father is a passion for the environment and conservation, particularly the ocean.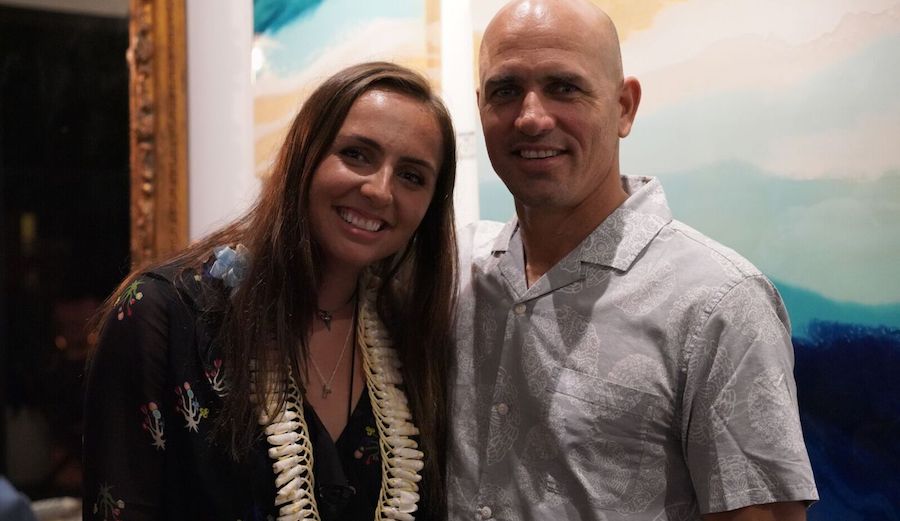 Kelly Slater's passion for environmental activism
Through surfing, his appreciation for nature – especially the ocean – grew and he quickly realised it needed his help. Slater is now a member of the Ocean Advocacy Advisory Board of the Sea Shepherd Society. He is also highly involved with Reef Check, an organization dedicated to monitoring and protect the world's coral reefs.
Kelly Slater even went so far as to create his own foundation, The Kelly Slater Foundation, which does fundraising for social and environmentally conscious charities.
Now every business deal he does, he makes sure it is environmentally and socially conscious. He has his own surf clothing line, Outerknown which is committed to a completely sustainable supply chain. He also is conscious of the surf gear he helps design alongside Firewire to make them as sustainably sourced as possible.
When did Kelly Slater go bald?
There is no real evidence of balding in old photos of Kelly Slater as you search the worldwide web. He went from a full luscious head of hair to completely shaven, so our guess is he shaved pretty early into signs of Male Pattern Baldness.
All we do know for sure, is that having no hair made no difference to his success in his career or life. In fact, we think he looks way better with a shaved head!
What is Kelly Slater up to now?
Now well into his 40's, Kelly hasn't stopped surfing at all, only slowing recently due to his injuries. Many have stopped trying to guess when he will retire as he just continues to bounce back.
His main venture now though is a man-made surf camp he opened in California in 2015. Kelly Slater Wave Co. created a new technology which Slater designed with his team of engineers to make man-made waves in still water. It's said to be the longest & most high-performance man-made wave in the world.
He has opened his own Surf Ranch in California, 200 miles from the coast and construction for another Surf Ranch on the Sunshine Coast of Australia is currently underway with the aim of opening in April 2022.
So the surfing star is definitely keeping busy with multiple projects plus he's still enjoying as much surfing as possible. He will no doubt be making waves for decades to come… quite literally.