You'd be hard pressed to find someone that doesn't know the name Dwayne 'The Rock' Johnson. The football player turned pro wrestler turned movie star turned producer can also add sexiest bald guy to his never ending list of achievements.
From being one of the most successful wrestlers of all time, he has also become one of Hollywood's highest paid actors and now, is the king of social media. But let's take a closer look at the exciting life of The Rock.
How old is Dwayne 'The Rock' Johnson?
He's currently 49 years old. Dwayne Douglas Johnson was born on the 2nd of May 1972 in Hayward, California to Ata (née Maivia) & Rocky Johnson.
What is the Rock's ethnicity?
His mother is Samoan and his father is a Black Nova Scotian descendent. His ancestors would have been part of the African-American group who fled the US after the American Revolution, seeking more freedoms up north. He also has Irish ancestry on his fathers side.
Where did Dwayne Johnson grow up?
The Rock moved around a bit when growing up, even living with his mothers family in New Zealand for some time. He lived in Grey Lynn where he attended Richmond Road Primary School and started playing rugby.
He then moved back to the US to finish his studies, attending seven more schools before graduating. Here is the list of schools he attended:
Charlotte, North Carolina:
– Montclaire Elementary School
Hamden, Connecticut:
– Shepherd Glen Elementary School
– Hamden Middle School
Honolulu, Hawaii:
– President William McKinley High School
Nashville, Tennessee:
– Glencliff High School
– McGavock High School
Bethlehem, Pennsylvania:
– Freedom High School – where he graduated.
Dwayne was not doing well in school and before he was even 17, he had been arrested multiple times for fighting, theft, and check fraud.
Despite this, he was noticed as a gifted athlete and was on the wrestling team, track and field team and played gridiron football. His talents in football saw him get many scholarship offers before deciding to play for and attend the University of Miami.
Where did the Rock play football?
He played defensive tackle for the Miami Hurricanes from 1990-1994 and played in the national championship team in 1991.
Johnson graduated in 1995 with a Bachelor of General Studies in criminology and physiology. He then signed with the Calgary Stampeders in the Canadian Football League as a linebacker. Unfortunately, he was cut two months into the season, ending his football career.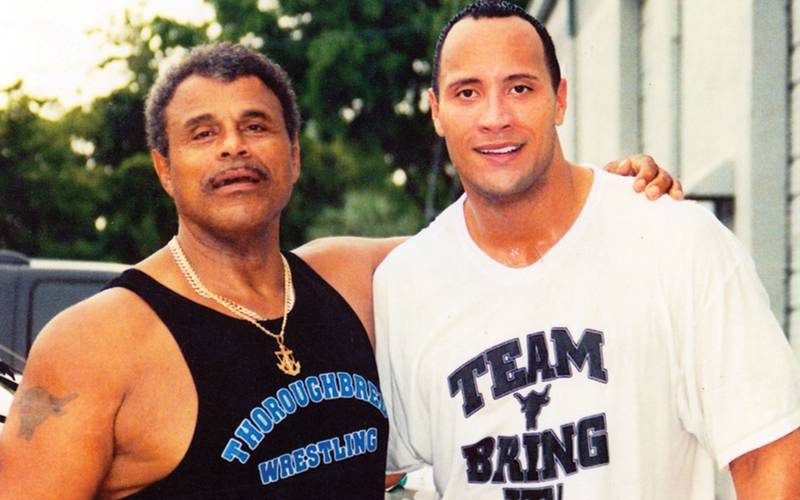 The Rock's professional wrestling career
The step into professional wrestling wasn't a random decision for Johnson. Wrestling is in his blood as both his father and grandfather were wrestlers. His father Rocky Johnson was part of the first ever black team to win the WWF (now WWE) Tag Team Championship alongside Tony Atlas.
His grandfather on his mothers side is Peter "High Chief" Maivia. He is part of the famous Samoan wrestling Anoa'i family. Dwayne is considered a non-blood relative because Ata (Dwayne's mother) is Peter's adopted daughter.
After a few tryout match's and winning a World Tag Team Championship, Dwayne signed to the World Wrestling Federation (WWF) in the summer of 1996.
How did he get nicknamed 'The Rock?
Dwayne made his WWF debut with the name Rocky Maivia, a combination of his father and grandfathers ring names. He was hailed as the world's first third generation wrestler.
His clean cut image and colourful outfits weren't a hit with WWF fans though and Johnson was ridiculed repeatedly. In 1997, after returning from a knee injury, Johnson hit back at the fans who had been nasty to him. He started to refer to himself in the third person as 'The Rock' and insulting the audience, interviewers and other performances. This change in image worked, and fans grew to love his brass yet charming persona.
In 1998 he officially changed his ring name to The Rock. By 2000, he was a world-record breaking wrestling champion.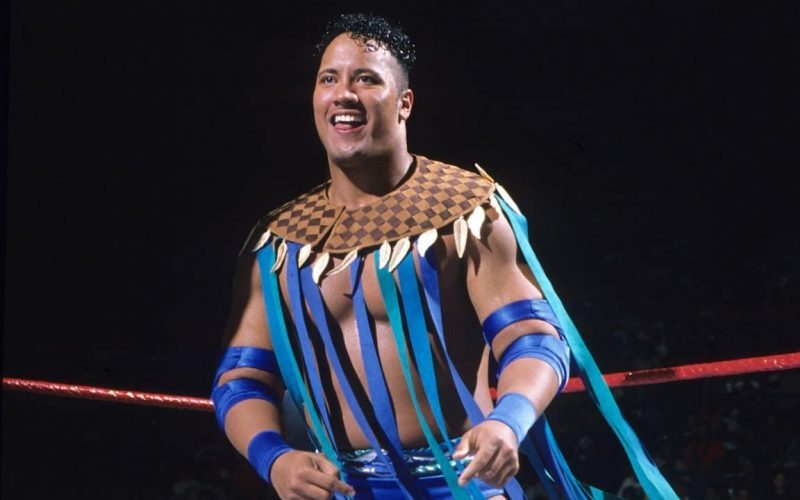 The Rock wrestling career stats
Regarded as one of the greatest wrestlers of all time, The Rock's wrestling career lasted from 1995 to 2004 with a few sporadic returns from 2007-2013. His last ever appearance in the ring was in 2019.
He was also dubbed one of the most watched and loved, having been part of multiple record breaking pay-per-view match's.
Out of a crazy 472 match's, the Rock won 270 of them (56%). His first world championship win came in 1998 when he won the WWF Championship, becoming the first wrestler of African-American descent to do so. Throughout his career he would claim 9 more world championship titles.
Johnson is also a five time Tag Team Champion, a two time Intercontinental Champion, a WWE Triple Crown champion and Royal Rumble winner.
How did The Rock get into acting?
It wasn't a far jump from the staged performances in the wrestling ring to movie sets in Hollywood. His popularity saw many doors open for him so in 2004, Dwayne retired from pro wrestling to pursue an acting career.
According to IMDb, Johnson has 109 acting credits. Some of his most famous titles include; The Mummy Returns, Be Cool, The Game Plan, Baywatch, the Fast & Furious franchise and Jumanji. He also has voiced several animated movie characters including his starring role as Maui in Moana.
He is now one of the most popular and well paid actors of all time. He was the world's highest paid actor in 2020 & 2019 and was the second highest for consecutive years before that. He currently sits 15th in a list of the highest grossing actors.
What was The Rock's first acting gig?
He first hit television screens in 1999, guest starring in That 70s Show and Startrek episodes.
In 2001 his first movie role was released (The Mummy Returns) and he hasn't slowed down since.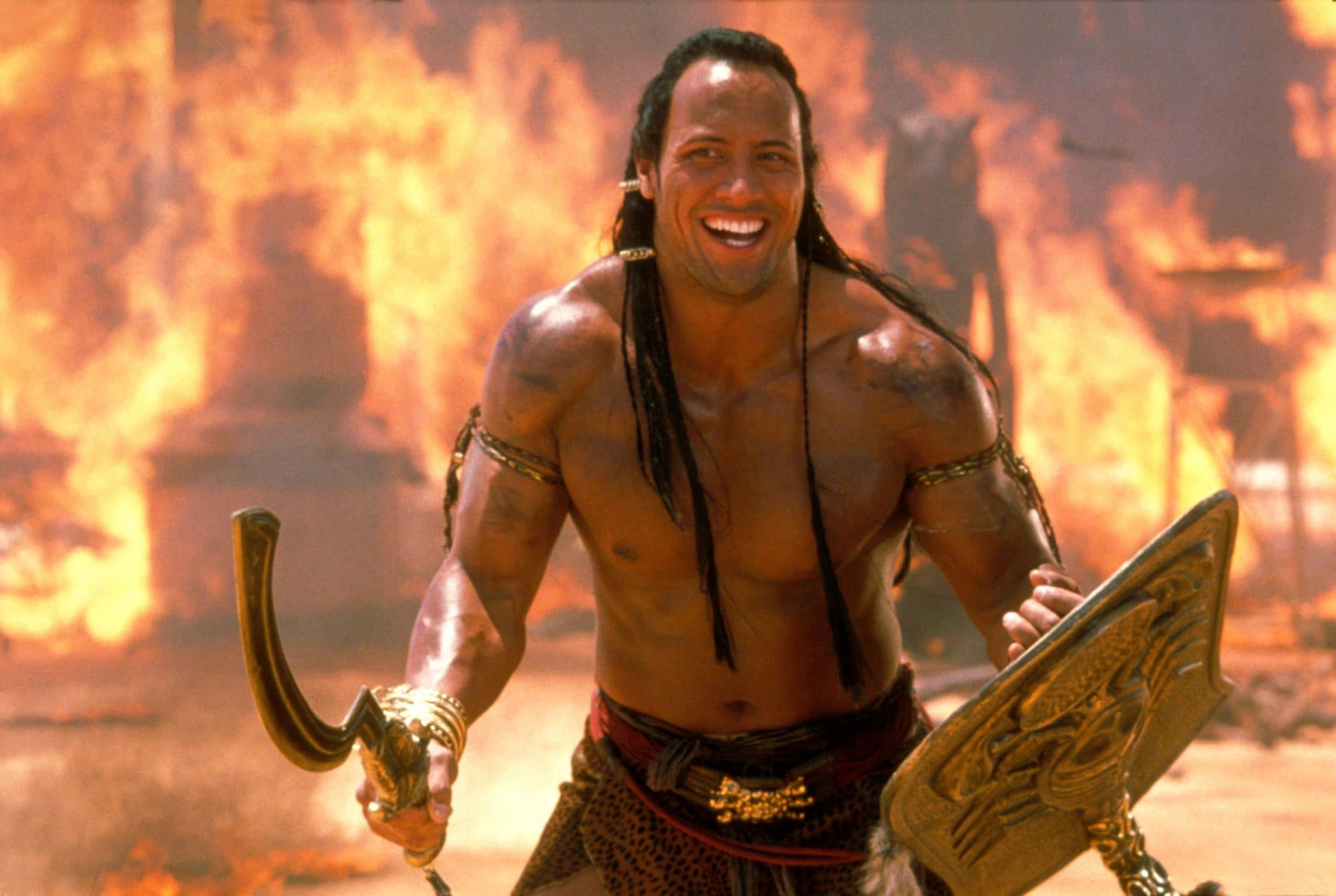 Dwayne Johnson's production company
The Rock loved working in film so much, he opened his own production company; Seven Bucks Productions in 2012 alongside ex-wife Dany Garcia.
The name Seven Bucks Productions is in reference to the amount of cash Johnson had after being released from the Canadian Football League and before he started wrestling.
The company have helped produce some movies Dwayne has starred in himself and a series called Young Rock which follows his life growing up.
Other career achievements
As if all of that wasn't enough, the star released his autobiography in 2000 titled The Rock Says which debuted at No. 1 on The New York Times Best Seller list.
He's hosted many series including the The Hero (which he also produced), Wake Up Call and The Titan Games.
You can even wear a piece of The Rock fashion after he partnered with Under Armour in 2016 to produce the 'Rock Project'.
He started a YouTube channel in 2016 and now has 5 million + subscribers. He is also the second most followed person on Instagram with 243 million followers.
Just because he wasn't busy enough, he was also due to launch his own competitive bodybuilding competition called Athleticon in 2020, but due to the global pandemic plans were disrupted.
Who is Dwayne 'The Rock' Johnson married to?
Dwayne married singer/songwriter Lauren Hashian in 2019 after 12 years of dating. This is Johnsons second marriage after his divorce from Dany Garcia. The two were married for 10 years from 1997 to 2007.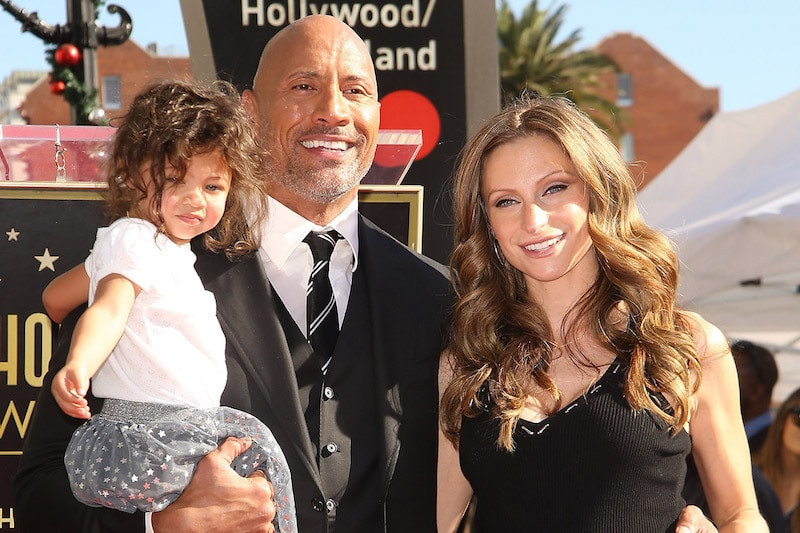 How many kids does The Rock have?
Surrounded by girls, The Rock has three daughters.
First daughter Simone was born in 2001 with ex-wife Dany. Simone recently signed on a contract with WWE, making her the first ever fourth generation wrestler.
Some time later, second wife Lauren gave birth to his second daughter Jasmine in 2015 and his youngest Tiana was born in 2018.
When did The Rock go bald?
There's no doubt being bald, muscly and tattooed combines to make his signature look, but when did he take the plunge and shave? And why?
The star shaved his head around 2010 and was showing no major signs of balding at the time. His hair line had always been a little far back and didn't seem to be drastically changing. Before he braved the shave, he had been keeping short buzz cuts so it wasn't a major change for him.
The Rock confirmed his baldness was down to choice in a hilarious tweet shared in 2017:
Why I luv GIFs. I'm not bald because I went bald. I'm bald because my hair is a cross between an afro and hair from a Lama's ball sac. #TheU https://t.co/E1Wlk3Tqov

— Dwayne Johnson (@TheRock) April 3, 2017
Some have linked the use of steroids and hair loss as a possible cover up, though The Rock denies this.
One thing is for sure, this superstar has left a mark on many different industries around the world, including The Bald Company. We couldn't be happier to have him as part of our team.